Open For Dine-in
Beginning May 22, 2020
We are meeting or exceeding the comprehensive CDC/CA guidelines for dine-in restaurants.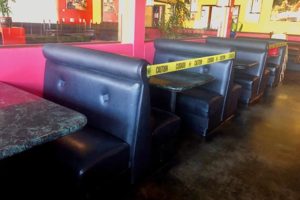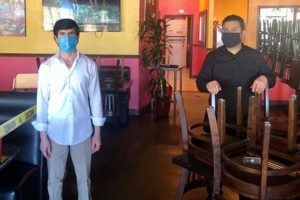 We will have a smaller seating capacity so we recommend calling ahead during busy times to put your name on the list and inquire about wait times. You will notice some changes that we have made to keep the dining experience safe during this time:
✅ Some tables are blocked off to provide the required 6 feet of social distancing between dining parties.
✅ All staff will be wearing masks
✅ All tables are clear with no condiments, or stands on them. Condiments are available upon request.
✅ Menu's and all touch areas are thoroughly disinfected between diners.
✅ Disposable plates, silverware are available upon request.
Please observe social distancing while waiting in the lobby or out front for your table. Thank you so much for your support during this time.
Soft, Hardshell or Mix n Match.
Taco Tuesdays
3 Tacos for $7.99 4pm to close
Wednesday's
Kids eat Free
4pm to close
HAPPY HOUR
EVERY DAY 3PM-6:30PM
Newbury Park
1620 Newbury Road #2 Newbury Park, CA 91320
(805) 498-3188
Regular Hours
Monday 11AM–8:30PM
Tuesday 11AM–8:30PM
Wednesday 11AM–8:30PM
Thursday 11AM–8:30PM
Friday 11AM–8:30PM
Saturday 11AM–8:30PM
Sunday 11AM–8:30PM
Camarillo
5227 Mission Oaks Blvd, Camarillo, CA 93012
(805) 702-4164
Regular Hours
Monday 11AM–8:30PM
Tuesday 11AM–8:30PM
Wednesday 11AM–8:30PM
Thursday 11AM–8:30PM
Friday 11AM–8:30PM
Saturday 11AM–8:30PM
Sunday 11AM–8:30PM